As London Councils are challenged to further increase higher rates of cycling in their boroughs, their efforts are supported by initiatives from London's central government.
London's Mayor Sadiq Khan and the GLA, in an effort to reduce pressure on roads and public transport has set a target to reduce car journeys by 3 million per day by 2041.
The Mayor's plan envisions 80 per cent of journeys will be made by public transport, walking or cycling, with enough cycling infrastructure in place to provide 70 per cent of Londoners with access to a safe cycle route within 400 metres of their home.
Transport for London (TfL) and London Councils are investing heavily into cycling infrastructure programmes to support these targets and generally agree cycling offers significant upside to alleviate road traffic issues by increasing cycle journeys over cars, while also creating 'greener' transport options that support clean air initiatives.
Along with more dedicated cycle routes, bicycle hire schemes, cycle parking facilities and education, London Councils have been tasked to deliver sufficient numbers of cycle skills training programmes to their communities to increase overall cycle journeys in their boroughs.
But is it enough? Will investment in these initiatives, along with improvements in cycling infrastructure, result in a modal shift in increased cycling journeys within London's respective boroughs?
Some Councils, such as Lambeth, Southwark and Hackney are driving higher rates of cycling activity through increased course levels, promotions and events. But Boroughs are also under intense pressure to provide evidence their investment in cycle skills training programs results in greater cycle journeys. There are success stories. Sutton Council's three year investment in their Smarter Travel program increased cycling by 75%.
A recent survey from Cycle Confident provided statistics supporting this to be the case. The survey was directed at 1539 adults living in one of 12 London boroughs who had taken a Cycle Skills training session from Cycle Confident in the last 7 years.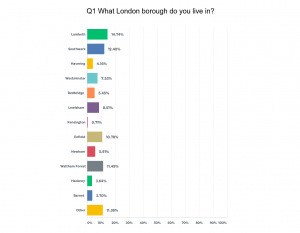 In answer to the key question of whether cycle skills training increased activity, 69 per cent of respondents stated their personal cycling activity increased after cycle instruction.

A follow on question provided further insights into cycling habits with 69 per cent stating their cycling activity increased between 1x more per month (11.44%), 2-3x per month (17.6%) to as much as 4x more per week (10.75%).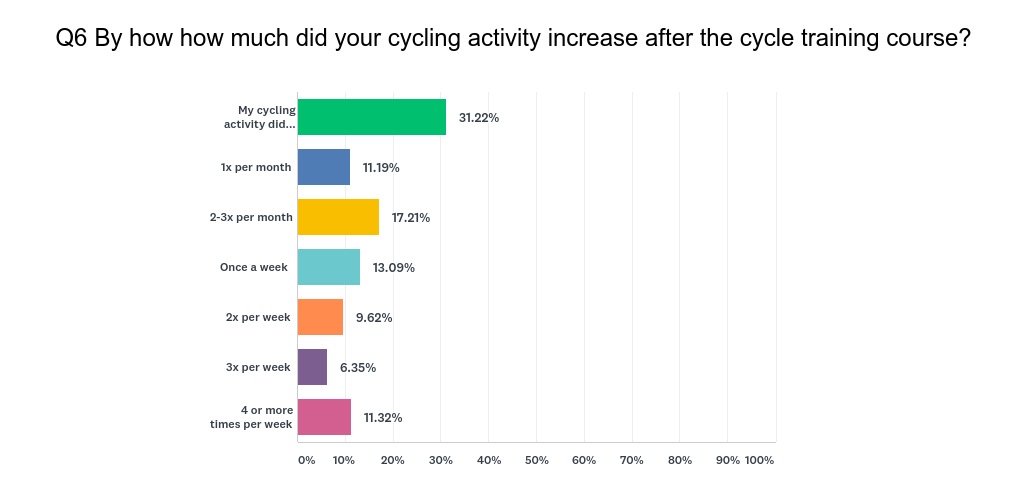 When asked if providing more Cycle Skills training would result in more people cycling in their area, 85.4% agreed with this question.

Respondents also agreed overwhelmingly when asked if they would like their Borough to provide more Cycle Skills training courses, with 88 per cent in the affirmative. This high number may be in response to concerns of budding cyclists who wish to cycle more but are put off by a number of factors, such as fear of busy roads or lack of cycling infrastructure.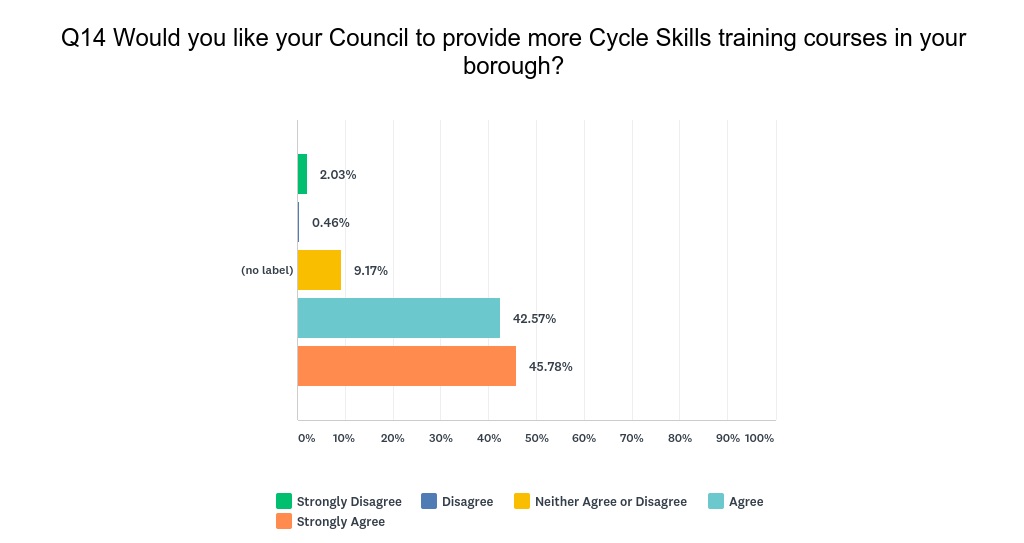 The majority of London councils offer two free sessions per adult. However converting a new cyclist with basic skills learned in entry-level cycle training classes, to one who can confidently ride in busy London traffic, is a real challenge.
David Showell, MD of Cycle Confident says "Converting weekend leisure cyclists into weekday riders making local journeys or commuting to work is key to delivering modal shift in London's Boroughs."
Showell went on to say, "Cycle instruction is key. It delivers a good foundation to begin a lifelong cycling journey. But adults and children also need to be able to practice their new skills and build confidence before moving onto London's busy roads.
Helen Hayes, MP of Dulwich and West Norwood, who recently took a cycle skills training course stated "The key to encouraging more Londoners to use cycling for every day travel is in my view both delivering significant investment in infrastructure to make our roads safer, and continuing free access to high quality training to give people the skills and confidence to cycle safely. I would never have felt confident enough to take my bike out on the road without the training I took part in, which made a huge difference."
This seeming lack of confidence can be seen in the question regarding why more Londoners don't cycle in their areas and addresses the issue of personal safety. While cyclists are willing to invest in further lessons with a view to increasing their cycling activity, 78 per cent said the reasons they didn't cycle more was due to three key issues; 1) fear of cycling on busy roads, 56%; 2) lack of cycle lanes and quiet ways, 21%; and 3) not having sufficient cycle skills to ride with confidence on roads, 17%.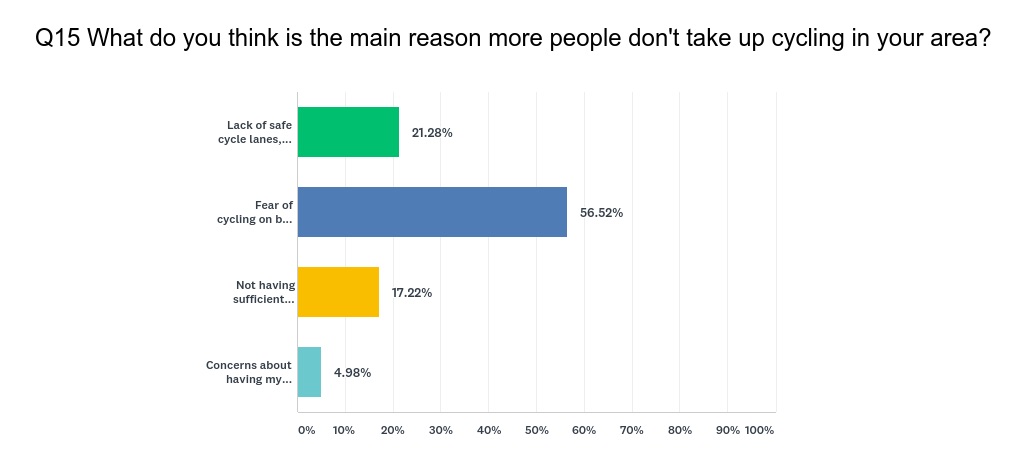 In answer to what type of cycling was preferred, 63% of respondents use their bicycle for leisure activities. This would assume many leisure cyclists ride their bikes during weekends, in parks, on bikes paths or quiet roads, rather than in traffic. In order to convert this group to commuter cycling, advanced, on-road training needs to be combined with further investment in cycling infrastructure to make sustainable gains in modal shift.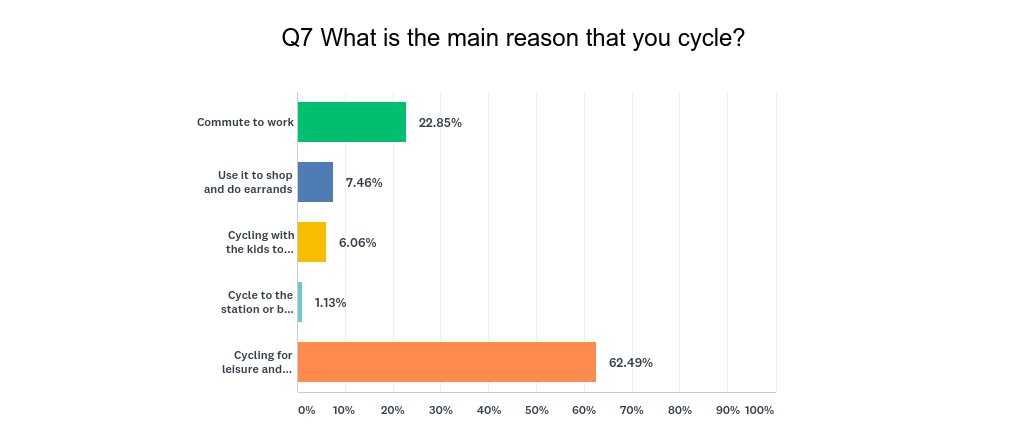 With TfL's continued investment in London's cycling initiatives, even modest increases in cycling activity, for example, from 2% to 5% are doable. This growth target is not just UK centric. Other European countries are also heavily supporting initiatives to increase cycling journeys.
France currently has a modal breakdown where on average, 2% of journeys take place by bike, but the head of their National Bicycle Council believes that 14-17% of all journeys is a realistic target.
Some UK and European cities have far higher rates of journeys by bike regardless of rain, cold or hilly terrain. For instance, the UK has its share of rain but Cambridge (100,000 inhabitants) enjoys 27% of journeys made by bike, with Oxford at 17%. In London during rush hour, it's estimated 32% of all road users are cyclists.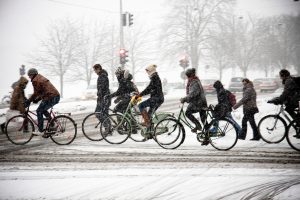 Parma, Italy (176,000 inhabitants) at 19%, is as high as Amsterdam for cycling journeys. Västerås, Sweden (115,000 inhabitants) which is very cold in winter has 33% while Basel, Switzerland, (230,000 inhabitants), 23%.
The safety of a cyclist depends on a number of factors: their visibility to larger road users such as automobiles, motorist behaviour, unbroken road surface, clear signage, and separation from vehicles.
While cyclists are more vulnerable than heavier road users, physical and mental aptitude plays a part in their cycling experience. Good judgement, ability to anticipate problems before they occur, road sense and mastery of the bicycle such as balance and agility, play a great part in the cyclist having a safe journey. The delivery of National Standard Cycle Training as a foundation course is a key component to their continued safety.
Cycle Confident has played an integral part in London's transformation into a burgeoning cycling city. As the leader in London's Cycle Skills training sector for 10 years, Cycle Confident has trained over 75,000 children, 46,000 adults, and 15,000 HGV drivers as part of its remit to London's Boroughs.
It continues to invest in its tech platform to deliver robust reporting back to its clients' and uses data analysis to react quickly to Council client's changing needs while delivering quality customer service to its retail customers.
In the near future Cycle Confident will be announcing new initiatives in Balance Bike Teacher Training (BBTT) and continues to develop new training programs to add to London's growing reputation as a cycling-friendly city.