If you've caught the cycling bug then you're probably looking for your next cycling challenge. Preparation is key on really long rides and here are some tips on what you should take.
How long is a piece of string
Let's start by sorting out the elephant in the room. Those pro cyclists who whizzed round the Tour of Britain sometimes go out for 3 hour recovery rides and probably cover 100 km in that time. Their long rides are very different to our long rides. Moreover, the distance of a ride is only one indication of a ride's difficulty; a very hilly route can throw a spanner in the works.
50 km / 3 hour ride
If you only normally cycle to your local shops, in the park or have short commutes into work, 50 km will be a good challenging distance to aim for (for comparison's sake, a 3 hour ride if your route is short but very hilly).
Unless you are at a cycling sportive, you need to plan your route and figure out if you will come across places to buy food and water. If in doubt, take all the food and drink you need for the whole ride.
Choose either your fantastic memory, paper or a GPS device for navigation; or a friend who has one of these things.
Be self sufficient with tools: multi-tool, tyre levers and spare inner tube are the bare minimal. Don't forget you need to know how to use them!
Always take a phone with you just in case.
100 km / 6 hour ride
You should have some experience of riding 50+ km with no trouble before trying this. It's probably a good idea that you also have more experienced cyclists with you.
On top of what you bring for your 50 km rides, you should think about bringing more layers incase the weather turns. For a more dismal weather forecast, put a waterproof jacket and gloves in your jersey pocket or bag. For more mild weather, look into arm warmers, leg warmers and a gilet instead.
Either have storage systems on your bike, yourself or plan your food and drink stops very well.
A set of front and rear lights should make an appearance on your bike. Either the ride takes longer than expected or visibility deteriorates: either way, you'll need your lights ready.
160 km / 10 hour ride
Now we're talking! Let's hope there's something waiting for you at the end of this ride by way of celebration, be it a bottle of champagne, a crowd of friends and family or a homemade meal.
Everything from the previous category becomes essential for this kind of ride.
Hope for the best and prepare for the worst, plan your route carefully but also take note of options to cut the ride by riding a shorter loop or taking a train back home.
Sorry for another negative note but did you know there are cycle rescue services should you get a mechanic breakdown beyond repair?
You may have entered a sportive abroad for your first 160 km to make it extra special. You may want to think about taking out an insurance. You should also find out what the emergency number is in the country (for example, 112 is currently the pan European number for contacting emergency services).
Even longer rides

This is the point where we tell you to check with your doctor before tackling big, extreme challenges.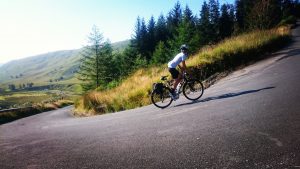 If you are just starting out with challenging rides and are setting yourself some ambitious goals, look up any of these: Audax, Trans Am Bike Race, Tour Divide, Transcontinental and Indian Pacific Wheel Race. Everesting is an odd one out where the logistics of route planning and refuel is simplified. For any of these, you will need to bring your determination, a sense of humour and possibly friends who can tolerate your singing.