Happy New Year! Let's make 2017 another cycling year! Read on for our 5 favourite cycling new year resolutions. There should be something for beginner cyclists, occasional cyclists and seasoned cyclists alike.
Get someone to start cycling
Spread the love! You might know someone who is considering taking up cycling for commuting or recreationally. Help them with the process of getting a bike and offer to guide them on a ride. You'll be glad to hear that we'll be publishing a mini series of blogs soon to answer some common questions from beginner cyclists. We also have suggestions for how to get your friends, family and colleagues to start cycling.
Climb a hill that's defeated you before
You and your bike vs hills. Having 100% confidence that you can get over any hill makes route planning much easier so if you've been beaten by a hill, keep trying until you conquer it! If you thought London was flat, we've got news for you… watch out for next week's blog "Top 10 hills to avoid/ visit in London".
Plan and complete a challenging ride
If you are getting bored of cycling in your local area or your commuting route, how about challenging yourself with a long ride and perhaps a more taxing terrain? Part of the fun is planning the route (don't overestimate your own ability!) Perhaps plan to ride with someone you know who is more experienced; they may be able to advise on route planning and help with directions or mechanical mishaps on the day. If you choose your partner wisely, you'll probably even get a few words of encouragement.
Start cycling into work
Tired of waiting for buses and trains that are forever late or cancelled? Feeling the January tug of the purse strings (or waistband)? Tick all the boxes at once by switching to cycling in to work. Depending on your confidence and the length of your commute, cycle the whole way or consider replacing a particular leg of your journey. Most train and tube stations have ample parking for bikes or there's the foldable bike option if you want to take it with you on the train. Don't let the British weather deter you though; get some tips and inspiration from these blogs: How to love riding in the rain, Some inspirational thoughts on winter cycling commutes, A guide to winter commuting by bike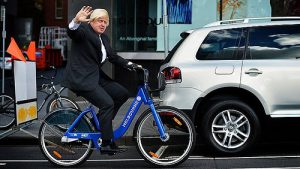 Cycle more often and more safely
Form a realistic plan and make your target to cycle more often. For example, look at using a cycle hire scheme to get around your city for meetings. Maybe you can commit to cycling in to work at least once a week to start off with. For the weekend, treat the family to a leisurely countryside cycle once a month.
You can take care of the "more safely" aspect by booking some cycle training with a company like ours. There are many cycle training providers across the UK so it shouldn't be hard for you to find a National Standard Instructor to give you a lesson or two. The training is usually free or subsidised by the local authority and caters for every level of ability.