Cycling infrastructure: the first things that will probably come up in your mind are painted cycle lanes and curb segregations. There are always some cycling infrastructure projects in the works but here are some existing cycling infrastructures with the wow-factor that take cyclists over, under and through obstacles.
Hovenring (Eindhoven, Netherlands)
This suspended cycle path roundabout is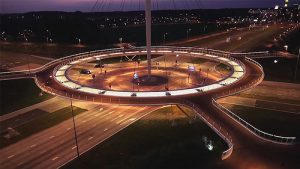 somewhat like the skeleton of the USS Enterprise from Star Trek. Not content with segregated cycle lanes and traffic lights, the Dutch have taken it to another level with Hovenring. That was not a pun because the road was constructed below surface level so that cyclists don't have to struggle up steep ramps.
The Cycle Snake (Copenhagen, Denmark)
Copenhagen never fails to impress and gave birth to Cykelslangen, or Cycle Snake. They have raised the bar with this elevated cycle path, pun intended. It's a two-way cycle path that snakes between buildings and along the harbour. It works with neighbouring bridges to help cyclists use the most convenient route to navigate across the harbour in with a light sea breeze in their hair.
San Sebastian tunnel (San Sebastian, Spain)
We head underground for this next one. I believe this is currently the world's longest cycling tunnel. It 's an old railway converted tunnel at nearly half a mile in length and is brightly lit. Rejoice for the flat cycle ride!
Two Tunnels Greenway (Bath, UK)
This shared path is another old railway converted tunnel. The path takes in two tunnels with the Combe Down tunnel being the longest cycling tunnel in Britain. Bath is very hilly so this is like music to hill-haters' ears, literally (there is music in the tunnel!) The dimly lit tunnel and spooky music might be more of a challenge for anyone who needs to sleep with a night light.
SolaRoad (Krommenie, Netherlands)
This experimental cycle path is short at the moment but the engineers have set their sights far beyond this SolaRoad in Krommenie. The path is equipped with solar panels and the idea is to generate electricity to be used for street lighting, traffic systems, houses and electric vehicles (maybe this is the first step to Tron-like cities?). The future is bright indeed.
'Starry Night' Cycle Path (Eindhoven, Netherlands)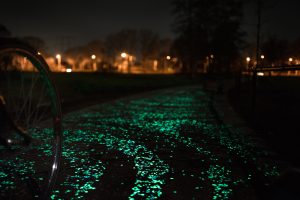 Inspired by Van Gogh's Starry Night and beautifully crafted by artist and designer Daan Roosegaarde. This kilometer-long cycle path comes to life in the dark. The swirling pattern of embedded glow in the dark stones is a truly beautiful tribute to Van Gogh. It is a part of the Van Goth cycle route through the province where he was born and raised.
ECO Cycle underground bicycle parking (Tokyo, Japan)
The sky is the limit and digging into the ground is not an easy task especially in Japan. The frequent volcanic and tectonic plate activities means that civil engineers in Japan have a lot to contend with. It didn't stop Giken Ltd. from bringing their anti-seismic underground bicycle parking to Tokyo. You get safe bike parking and automated robotic arm awesomeness.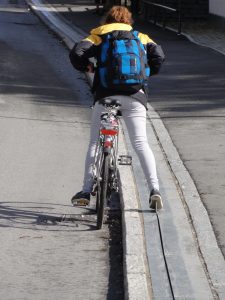 CycloCable (Trondheim, Norway)
Steep hills really get in the way so Jarle Wanvik built a bike escalator, or Trampe lift, back in 1993 when he didn't want to get into work all sweaty. I don't blame him, the slope hits 18% gradient. It has been upgraded and rebranded as the CycloCable and continues to deliver stroller, scooters and cyclists 150m up to the top.
Did we miss any existing fun, fantastic or forward-thinking cycling infrastructure? Let us know in the comments section.