If the two favourite parts of your day are the cycle ride to the office, and the cycle ride home, perhaps it's time to consider an alternative career. Here are a few different ways to make a living on two wheels.
Professional racer
OK, so this won't be a viable option for most of us, but for those who are sufficiently young and dedicated British Cycling has information on how to go about becoming a member of team GB, with pathways available through their Go-Ride scheme.
Emergency Services
Both the Police and Ambulance Service deploy officers on bicycles who will undergo additional specialist cycle training. The opportunity to spend your day cycling will (hopefully) not be the primary reason for choosing either of these careers, but if you have a calling to this sort of work and can combine it with a love of cycling, all the better.
Courier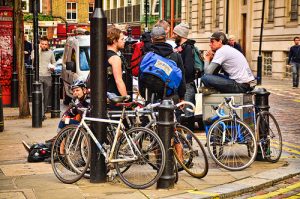 Bike messengers, or couriers, are perhaps the most visible form of bike based employment, certainly in major cities. A good level of fitness, knowledge of the city, and, most importantly, a willingness to report for work whatever the weather are all needed to make a go of this job. For more insight into the life of a cycle courier, read this extract from Jon Day's account.
Companies like Uber and Deliveroo are recruiting increasing numbers of cyclists to make food deliveries, although both companies have come under fire for the terms and conditions they offer to workers in the so called gig economy.
Cycle barista
If you love your coffee as much as your bike then you could set up as a roving barista. Velopresso have won multiple awards for their innovative three wheeled, pedal driven espresso machine. Luxury cycling brand Rapha are also recruiting baristas for their Cycling Club, as long as you have "a passion for delivering a world-class customer experience".
Cycling instructor
For anyone with a passion for getting more people onto bikes, working as a qualified cycling instructor can be incredibly rewarding. The job involves teaching both children and adults how to ride a bicycle for the first time, or training existing riders in the skills they need to ride confidently in all situations. For more information, see our blog post on the topic.