This post will look at how to buy a second hand general utility bicycle, as opposed to a high performance road machine, or vintage collector's item, which is another kettle of (more expensive) fish.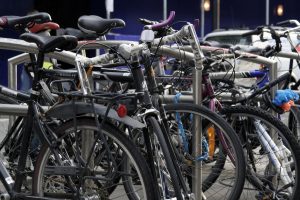 Buying second hand can offer the chance to get the best possible bike for your budget, and for London commuters who may have to leave their bike locked up in public there's also a school of thought that pre-loved bikes are less attractive to thieves.
Talking of which, it's important to take all reasonable steps to avoid buying a stolen bike. BikeRegister, the national cycle database, has some excellent advice to prevent you from unwittingly supporting bike crime.
So what else should you look out for?
Where to buy
Gone are the days of scouring the classifieds in the local paper. Online equivalents such as Gumtree and Craigslist can harbour the odd bargain still, as can E-Bay, but shopping for a bike without being able to test it out in person is obviously fraught with risk.
Look for listings with plenty of detail and good quality photos. It's always preferable to have the option to collect in person, rather than having the goods posted out to you.
A better bet might be the classified forums of popular bike-related websites, such as BikeRadar, Singletrack, or (for fixed gear and single speed) LFGSS. The forum communities are self-policing and will weed out anything that doesn't look right.
Better still would be to buy a second hand bike from a local bike shop, as any reputable shop will have given their bikes a full service before sale, and will be more likely to be able to deal with you sympathetically should any issues arise.
What to look for
To avoid a bargain buy turning into a two-wheeled money pit, it's important to check for common problems before parting with your cash. If you don't feel confident in your ability to make a full assessment then take someone along with you who does.
First of all make sure you get the right size. A bargain priced bike that doesn't fit is a false economy.
Wheels should be true – meaning the rim doesn't appear to wobble as it rotates – within a mm or two. Badly dished wheels are expensive to fix, or may be beyond repair, and make it impossible to set the brakes up effectively.
The frame should be straight and free from dents. Any signs of cracks or bends are a deal breaker.
Check that the seat post is not seized in the frame, as you'll need to adjust this to your height.
Make sure that the forks turn smoothly in the frame when you move the handlebars.
Look for any play (looseness) in the bottom bracket and cranks, and in the headset.
Check that the brakes are working, and that the cables run smoothly and aren't frayed.
Check that the gears operate correctly, and again, that the cables run smoothly.
If possible, having conducted some basic safety checks, take the bike for a test ride.
Learning a little about bike maintenance, and showing your bike some regular care and attention, will save you even more money in the long run.
Happy shopping!