Imagine you are a cyclist with a puncture. You don't have a spare inner tube or you can't fix the puncture yourself. You don't know where you can find a bike shop – maybe they are all closed at the time –  and you are going to be late for an appointment…
Wouldn't it be great if you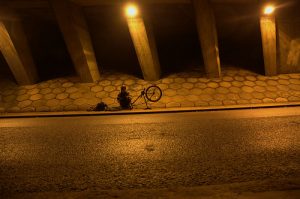 could hail someone just around the corner to come to your rescue? Well, now you can with the Kerbi app for iPhone.
With Kerbi, if you're a stranded cyclist, simply 'hail' a repair provider via the app, allowing mobile bike mechanics, bike messengers or other expert cyclists in the area to respond directly to your request. You can then choose a repair provider from the quotes you receive, with secure cashless payment upon completion.
Check out the video and homage to The Bourne Identity!
For bike mechanics, Kerbi provides a new route to market for their skills. The "receiver" for Kerbi is another app called Street Stream. Street Stream was originally set up as an app for couriers (including bike messengers). Customers put same-day delivery requests on the Street Stream website and couriers can quote. Now bike mechanics (and bike messengers) can get alerted to stranded cyclists with a puncture and submit their price for getting a puncture sorted. Street Stream takes a small fee per job (£2) – the rest is the mechanic's to keep and they can charge whatever the market will bear.
In future it will be possible to do more than just punctures, including a whole host of bicycle repairs.
If you would like to check out Kerbi, it's available on the app store here.
If you would like to be a Kerbi agent, providing repairs, you can download Street Stream here and follow the registration instructions.