Who is cycle training for? The simple answer is that it's for everyone. By which I mean that pretty much anybody who rides a bike, or would like to ride a bike, will gain something from a lesson with a qualified cycling instructor.
It's for the kids though isn't it?
Many people's standard conception of cycle training will be what used to be known as the cycling proficiency test, and the training of school-age children remains a big part of our work today. Thankfully the rather ad hoc approach to cycling proficiency was replaced with the launch of the National Standard for cycle training in 2003, and it is this structure which guides training in schools under the banner of Bikeability.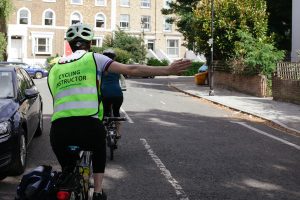 Training is also available to adults, and whilst all training will be underpinned by the same National Standard, there is a large amount of flexibility that allows for training to be tailored to the individual needs of each trainee.
What if I never learned to ride a bike?
If you never learned to cycle as a child, don't worry, it's never too late.  Also, you're not alone.  You might be surprised to find out that, according to some estimates, around one in ten adults don't know how to ride a bike. The good news is that one or two sessions with a qualified instructor are usually enough to get a complete beginner pedalling along.
I already ride on the roads so I guess training's not for me?
Cycling safely and confidently, particularly on the roads of a major city like London, involves much more than mastering the control of your bicycle and learning the rules of the highway code.  Although those two things do clearly make for a good starting point!
Unlike driving a car there's no test to be taken before you start cycling on the roads (and I'm not proposing that there should be) which means that often even experienced cyclists have never actually stopped to think about the finer details of how they cycle. Like most activities, habits (good and bad) are quickly and easily established. As an example, a very common habit of urban cyclists is to only ever ride in a narrow strip of road within 50cm or so of the kerb. A little time with a cycling instructor spent thinking about how to increase your safety and visibility can modify this behaviour for the better.
Bespoke advice
The great thing about 1-2-1 cycle training is that each session can be designed bespoke for the individual trainee. If you want to tackle a certain journey your instructor can sit down with you to plan a route before riding it together to provide advice on specific roads and junctions. Perhaps you are unsure of a certain turn or manoeuvre? If so then these can be looked at in detail. You can also spend time considering the existing cycling infrastructure in your area and discuss when's best (and best not) to use it.
So whether you're a complete beginner, someone returning to cycling wanting the confidence to use the roads, or an experienced cyclist wanting to make sure that you're riding as well as you possibly can, take a look at what training's available near you.